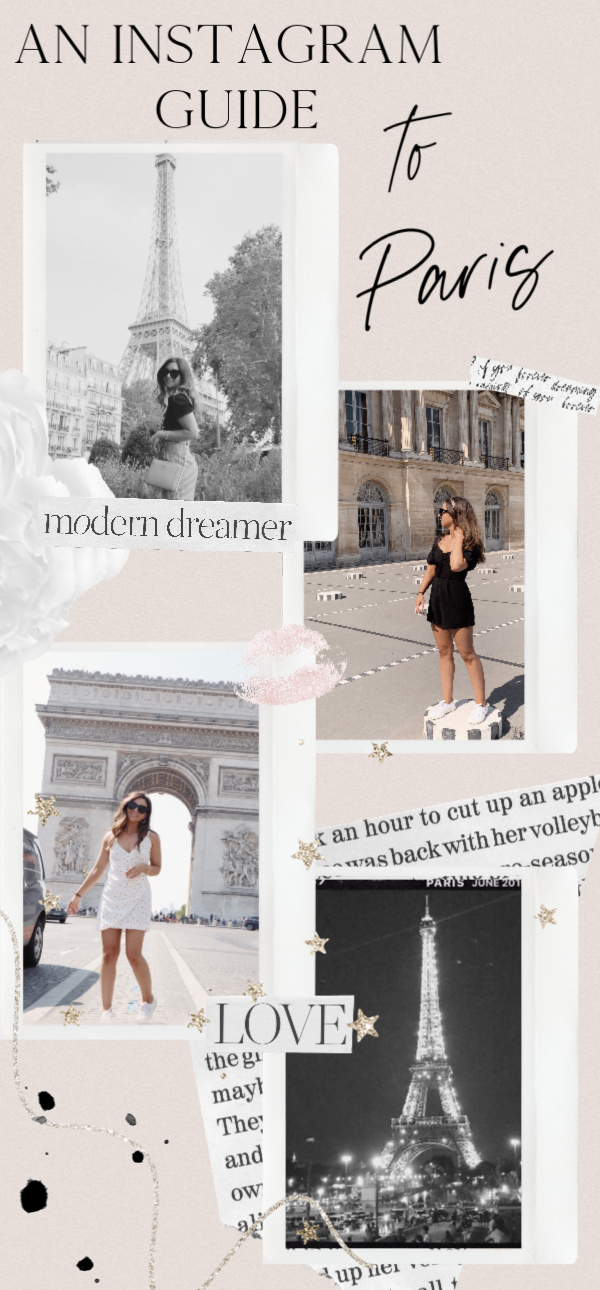 Paris is probably one of the most beautiful cities that I have ever visited. Every street is aesthetically pleasing, so to be honest, there doesn't even really need to be an Instagram guide, because every corner is photo worthy.
I would literally walk along just snapping away, probably much to Henry's annoyance as I was always stopping haha, but it really is such a gorgeous place and I have fallen head over heels for Paris.
However, today, I thought I'd sit and compile a list of places that are very Instagram worthy if you are visiting Paris soon, I had a Pinterest folder which you can see here, which had a whole bevy of Instagram / photo inspo in, and definitely take a look at that cause the girls in those photos are 103x cooler than me.
Also, we didn't really do *that* much exploring so a lot of the places are very much based around the Eiffel tower area, we visited during the recent heat wave so it made getting around a little difficult ( you don't even wanna know how sweaty it was) so I'd definitely recommend checking out other Paris Instagram guides as they will probably be a lot more diverse.
But enough of me self-deprecating, here are some places that will make a truly pretty photo.
The Eiffel Tower
Well duh, The Eiffel Tower is probably the most iconic sight in Paris and what a sight it is. I'd visited Paris once before when I was 12 and I don't remember much of it, we went on an open top bus and that's about all I remember. (Apparently me and my Mum swapped shoes halfway through the day, but clearly I blanked that from my memory!) So it wasn't like I'd never seen the Eiffel Tower before, but I guess 12-year-old me didn't appreciate it as much then.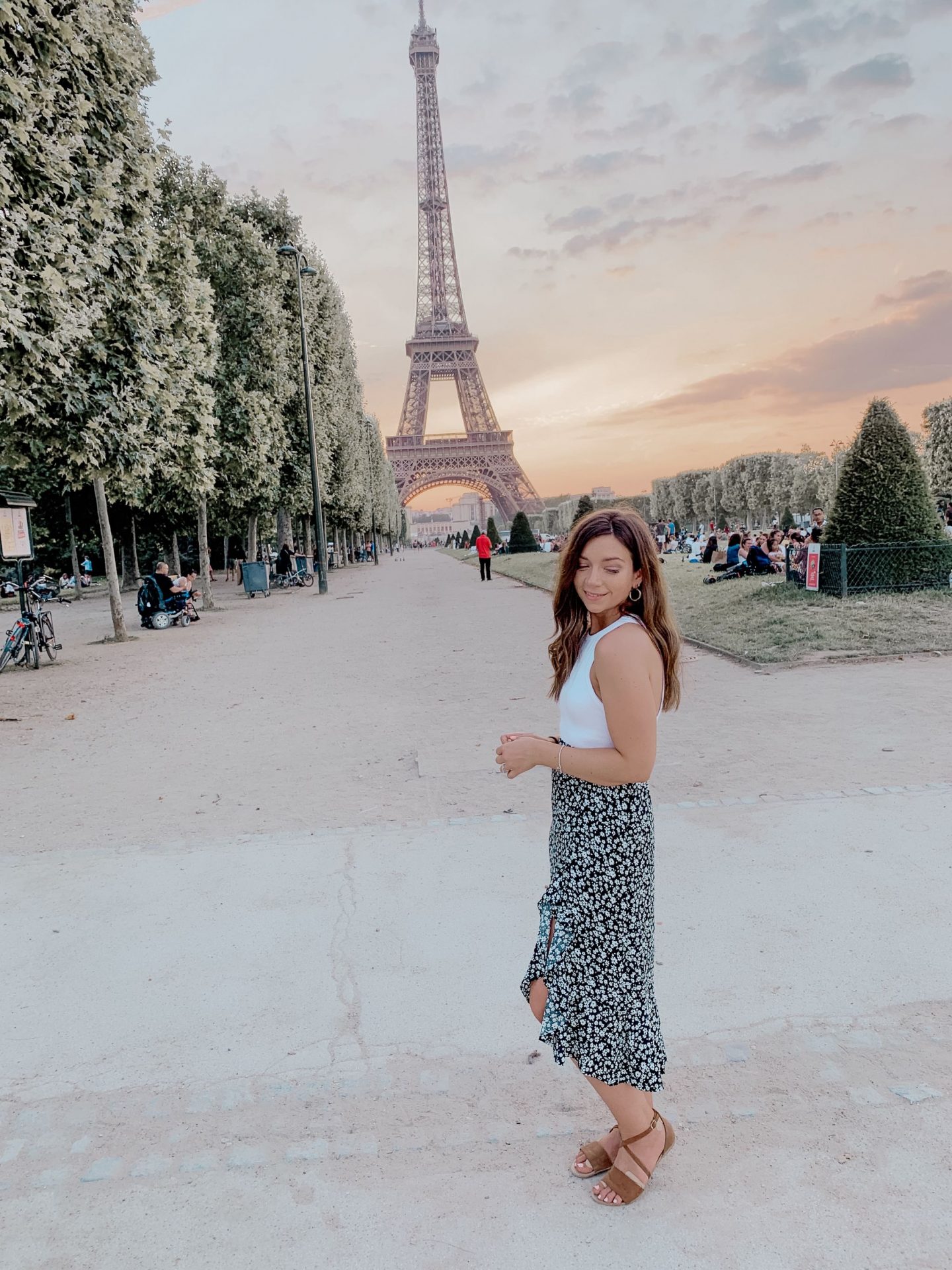 Because boy, did it take my breath away. It's so big, and it really is something else and I could have sat in a park overlooking it for the whole trip, I mean that is pretty much what we did, but yeah. The Eiffel Tower is the perfect photo opp.
There is a park underneath where you can chill which makes a cute photo, or you can get some amazing photos on the other side of the bridge and overlook it from Trocadero.
Trocadero
If you look up Paris on Instagram or Pinterest, you'll see girls on steps with the Eiffel Tower in the background, and they will have probably been taken at Trocadero. This was only 10 mins from our hotel, and it really is the best place to view the Eiffel Tower. It did take my breath away. It was here that we spent every night with a crepe waiting for the lights to come on and it was so chilled and magical.
The steps are of course the Instagram must, they're very quiet in the morning, and they're quite busy during sunset, but I didn't think they were ever so overcrowded that you'd not get a good shot, so just go whenever. But a must visit for that iconic shot. 
Rue de l'Universite
Another pretty well-known Instagram location is Rue de l'Universite, so this is a side street on the side of the Eiffel Tower and just off the park underneath. We literally stumbled across this street as we'd been in some shops getting a pizza from the other side of the road, and I was like "It's the Instagram street!'
It's got a gorgeous side view of the Eiffel Tower with the added bonus of the cute buildings and greenery from the trees. We ended up walking down it a few times down our trip and it was never too busy, so a pretty good place to get a photo which is a little less busy/touristy.
Rue De Admiral Hamelin
So this street was about 5 minutes from our hotel, and again we stumbled across it and we were like 'this view!' So it basically looks down onto the Eiffel Tower but I love it cause it's a cute street with gorgeous Parisian apartments. No one was down there so it's a really great place to take photos. You could take a photo at the top of the street which I did, or also down it too which I also did.
But such a good little find!
Arc De Triomphe
Another very famous Paris landmark, now this was seriously full of tourists but we did visit it at like 4pm so to be expected. I'm sure if you visited first thing it would be a lot quieter!
There are two corners that you can take a good photo on, and we found the left side to have fewer people on whilst the right side was crowded which was weird. However the photos we loved the most were taken in the middle of the road, so BE CAREFUL!
Basically there's a crossing, and you can get a good shot at this crossing. Just obviously be careful of the cars, but I felt pretty safe and we were there literally for a minute, but a good little spot to take photos, but I would recommend going earlier rather than later!
Pont Alexandre III Bridge
There are so many bridges in Paris and they're all beautiful but my fave was Pont Alexandre III, it was gorgeous. I loved the gold details, and of course the view to the Eiffel Tower.
A good shot would be with the Eiffel tower in the background, but to the side of the bridge is also a good photo spot too! We went around 10am and it was pretty quiet.
Versailles
If you've got time, I'd recommend a day trip to Versailles as it's one of the most beautiful places I've ever seen. The palace was incredible (and very instagrammable) as were the gardens, and the The Grand Trianon which is a PINK MARBLE palace ( I mean when can I move in?) is so beautiful and very Instagrammable!
To be honest, it's probably going to be busy no matter what time you go, but I'd recommend maybe going early as possible, we found outside around the palace was nice and quiet but the actual palace inside was SO crowded! The Grand Trianon was really quiet though as it's about a 15 minute walk from the main palace so think sometimes people miss it off, so if you're a fan of pink, definitely go visit and make the most of it being a bit quieter!
Palais Royal
So this is where you find the black and white striped blocks that you see all over Instagram. It's a definitely a must visit! I'd definitely recommend going early though, we went around 10am and it wasn't too busy, but was getting busier by the time we left!
The Louvre
The Louvre is just across the street from Palais Royal so that's good if you're on a little Instagram mission! Again I'd recommend visiting earlier rather than later so it's nice and quiet.
Musee D' Orsay
I had to visit this Museum because it was Blair Waldorf's favourite when she visited Paris. For all my other Blair fans, go find Manet's Le Déjeuner sur l'herbe – it's on the top floor, it's where she was standing when her and Prince Louis first met!
Notre Dame
I was quite shocked how much of Notre Dame has been closed off, you no longer can get in front of it which is a shame but understandable after the fire earlier this year. It's still beautiful and worth visiting as its such an iconic Paris landmark.
We took some good pictures just down the road on a bridge overlooking it, we went at sunset and I was so happy with the pictures!
Along The Seine
Finally, anywhere along the Seine is a gorgeous photo spot. Just by the Seine by the Eiffel tower is a gorgeous spot and was one of our favourite places to go. 
I know that there are so many other places in Paris that we didn't even visit and hopefully one day I can go back to visit them!
I'd love to know if you have any fave Paris Instagram spots?