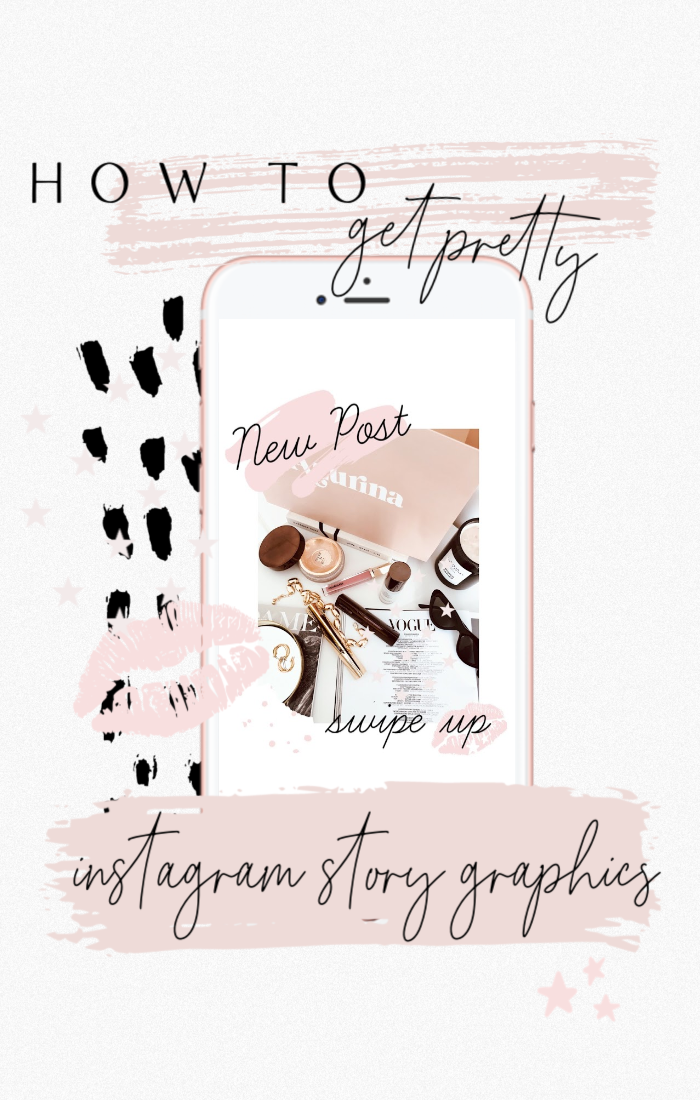 So, a couple of weeks ago, I made a video on my Instagram story showing how easy it is to copy and paste pictures into your Instagram story. I showed myself making a typical picture with a photo and some graphics and I was inundated with messages asking where I get my graphics from.
It got me thinking, because I hadn't realised how many people would be interested in graphics, and I got thinking about how I should show you all where to get your own.
Now, I do buy a lot of my graphics from outside sources, I have a few design kits from The Blog Pixie who is so talented and I love everything she does, I also get stuff from Etsy, creative market and some bits I've made myself.
I love The Blog Pixie's stuff and if you can afford to buy one or a few of her kits then do, because they're beautiful!
However, if you're on a budget, you can totally make pretty graphics yourself and I promise it isn't hard- cause if I can do it – you can.
We're going to make them all on Picmonkey.
That's right. No photoshop or fancy design programme Picmonkey.
I have the basic subscription, which allows me to edit, upload my own fonts (though you now need the PRO subscription for this, I still get it because I've been a member on Picmonkey for about 80 years) have all the design features, etc…
In my opinion, it's worth the $7.99 or $12.99 a month, as I'm always using it and find it SO easy to use. However, if you're thinking 'Corrie – I'm on a budget here girl and you did say this would be free…' don't panic.
Picmonkey do a 7 day free trial, so you can sign up, make your graphics, see how you like it and if you don't want to sign up, cancel the trial and voila. That's it.
Now, I've made around 30-ish graphics for you, they took me about 4 seconds to make on Picmonkey, and it's so easy to do.
I literally just set a blank canvas up, set the background to transparent (this is VERY important) and then would go to the graphics section.
In the graphics section are lots of things like brush strokes, cute doodles, arrows, textures, you name it, – it's there.
I chose a design element, e.g these hearts. I then chose my colour – a baby pink of course, then downloaded as a png and that's it!
I also made some text too, I tend to use Blog Pixie fonts, but didn't for this because you have to be careful with copyright and licensing, so I used a brush font from the Picmonkey library and made some New Post stickers.
If you're making stickers for yourself and your own personal use, I'd recommend going on Dafont.com to find your own fonts, and uploading these to Picmonkey. Or of course using Blog Pixie or another designers fonts- but if you are using someone else's font, make sure you read the licensing and see if it's for personal use only (if so you won't be able to share things to download as the licence is just for your use only!)
There are so many graphics, doodles and design elements you can use on Picmonkey that are perfect for your instagram story. 
Once you've got your graphics, save them to your downloads, and airdrop to your phone.
I then put all my graphics into an album, so they're easy to get to when I need them. I get the graphic, press copy from the photo options then paste onto my Instagram story and that's it.
How easy was that?
Let me know if you go make your own graphics and tag me as I'd love to see! And of course if you use any of mine, tag me as I'd love to see.
I hope this has been helpful for anyone who was wondering about where to get graphics or how to make them!
And of course here are my graphics I made 🙂 feel free to download and use on your story!