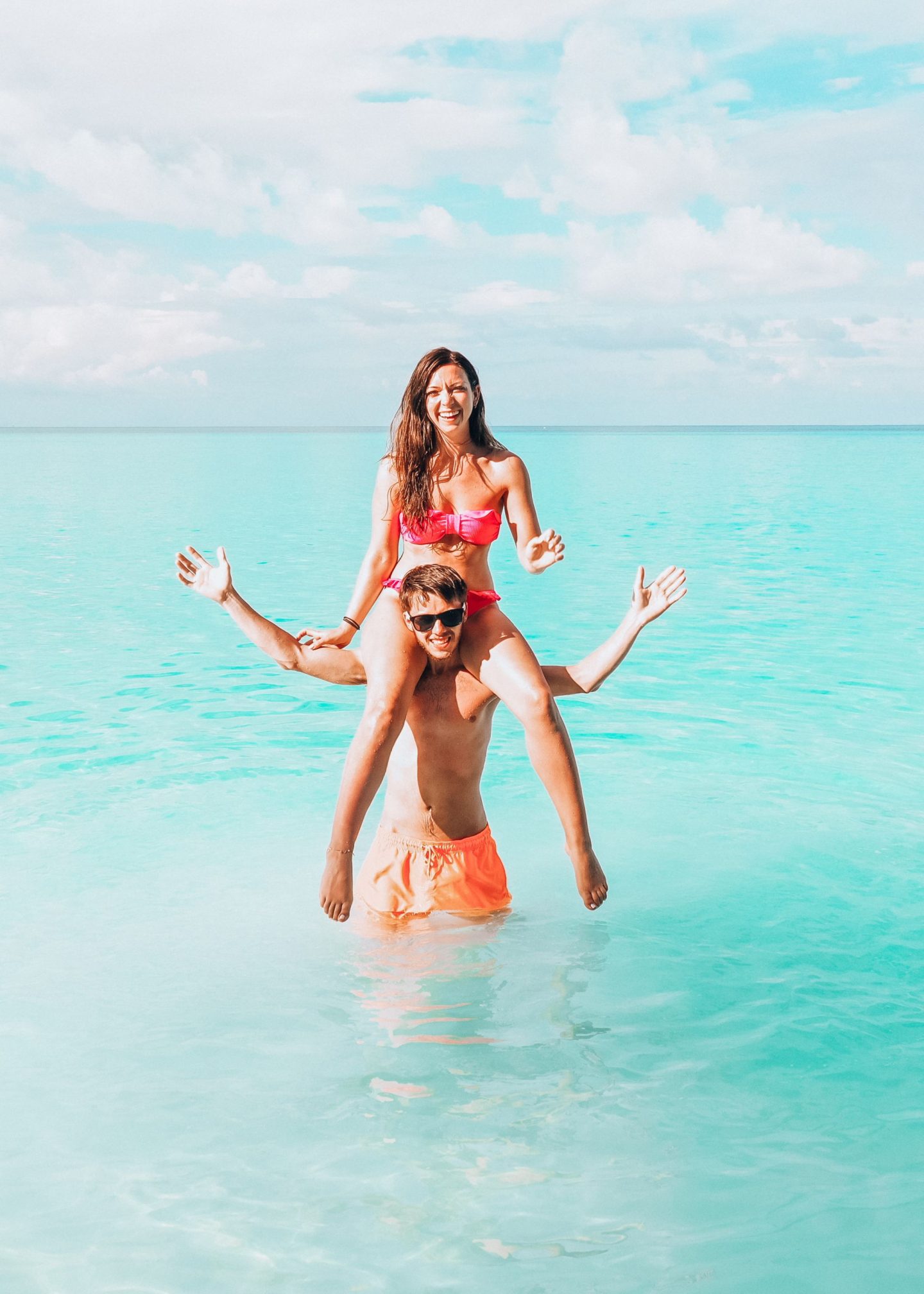 As I write this, it seems like our week on Honeymoon in the Maldives was a distant memory.
The rain has just stopped, the sky is grey, and I'm wondering if that week we spent in paradise even happened.
But like all holidays (which all seem like a dream the minute you step off the plane) it did happen, and today, I'm going to sit down and talk all about our Honeymoon to The Maldives.
So let's start at the beginning – we booked our Honeymoon back in late August. After a few months of deliberating, we decided to book a week's trip to the Kuramathi resort in the Maldives.
We wanted to have a really chilled break in ultimate luxury and we've aways wanted to visit The Maldives (it's been on my travel bucket list for years) so it was a bit of a no brainer where to honeymoon.
The trip came around so fast though, and before we knew it, we were on our way to the airport.
We flew with Emirates, and we upgraded our first leg of our journey to business class, which was incredible.
From the seats that lay back, to the big TV, to the food on china plates- travelling business class was everything we hoped for and more.
The 7 hour journey, flew by (ahem) and it's the first time that I've not wanted to get off the plane!
If you ever have the opportunity to travel business class -you have to. What an experience.
Our next flight was four hours from Dubai to Male – and from there we got a seaplane to our resort.
There are 105 resorts to choose from in The Maldives – which are all on their own private island. You can get to these by plane or boat.
We opted to travel to our resort Kuramathi, by seaplane on the way, which took 15 minutes from Male.
This was an extra cost, but we thought this would make our arrival really special. It was a lot smoother than I thought it would be, but it was very noisy and very surreal being in a little plane taking off from the sea with just a few other people and pilots wearing shorts and flip-flops.
It was amazing travelling over the ocean, and almost felt a little surreal.
After being dropped off onto a little platoon on the ocean, we were taken on a 5 minute boat trip to the resort, and after almost 20 hours of travelling door to door- we made it.
We checked in and were taken to our villa by buggy.
We had a Deluxe Water Villa which was seriously dreamy.
The water villas seem to be quite new, and they are incredibly spacious, modern and immaculate.
Our villa was out in the ocean, it had a huge sun deck with steps that lead directly into the bluest sea.
There was the biggest bed, a modern marble bathroom with the dreamiest bath tub.
After unpacking and having a little nap, we were ready to explore the island.
So, now let's tell you a little more about Kuramathi.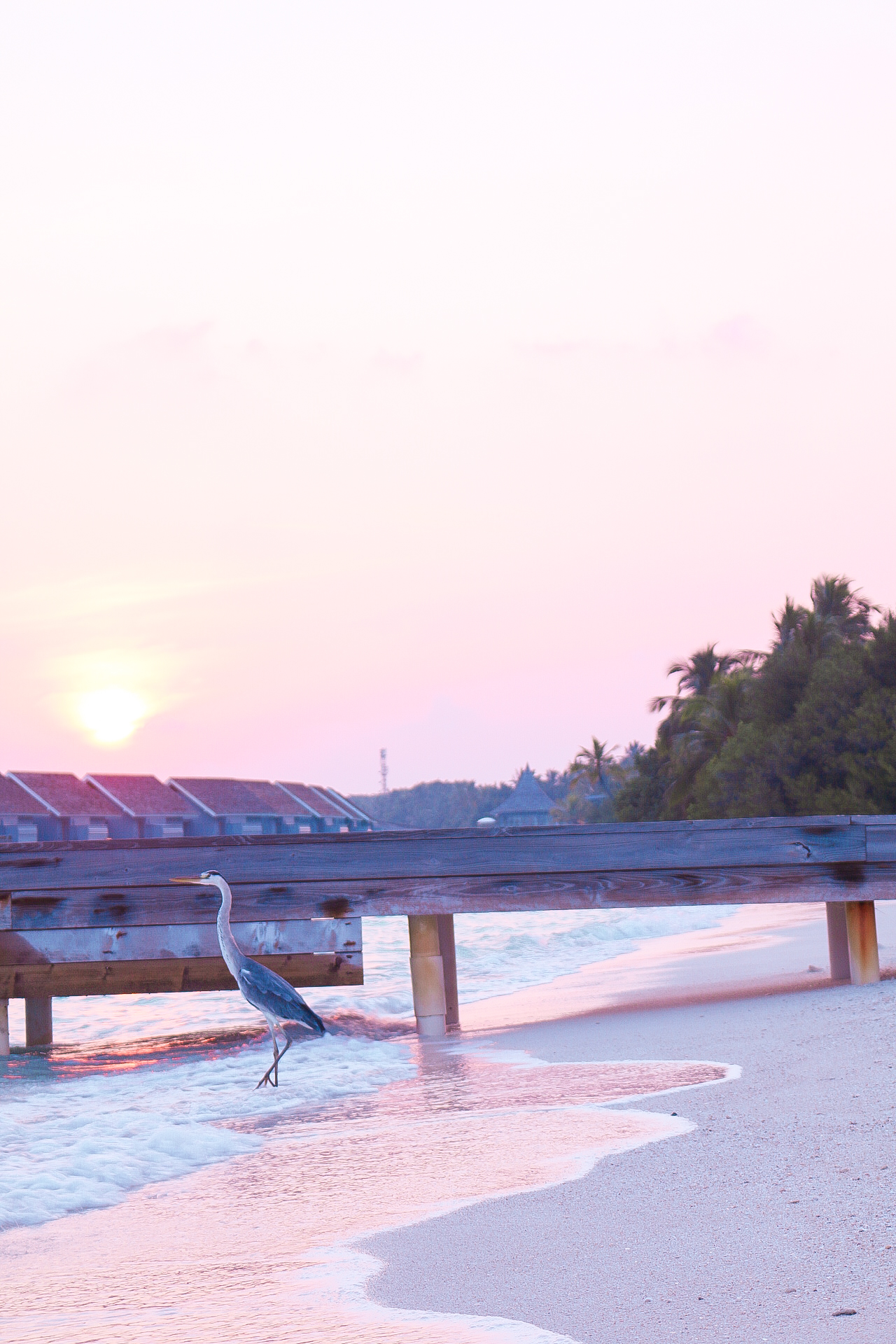 It's one of the bigger island on The Maldives, which meant there are lots of things to do which really appealed to us.
We also loved how it had ten restaurants for you to choose from, and six bars. Meaning that hopefully- even us – the pickiest of eaters would be okay.
And I can confirm that we ate very, very well!
There's the three main restaurants which are a buffet style, where you can have breakfast, lunch and dinner, and if you are on the basic all inclusive plan, this is where you would eat.
However, there is also 9 a la carte restaurants, and if you are on the select all-inclusive plan (which I recommend you do btw) then these are also included within your plan.
There's an Italian, Indian, Island BBQ, Japanese, seafood restaurant, and many more.
Our faves were The Palm (italian – good pizza and ice cream!) Tandoor Mahal (amazing indian food) and Island Barbecue (the steak Diane was incredible!)
We tended to eat lunch at either the Island Coffee Shop, The Palm or Inguru. We usually had burgers, salad or sandwiches.
The menus were huge with a vast amount of choice, even the fussiest of eaters would be able to find something!
Like I mentioned there was a few bars too, our fave was the Laguna Bar, set at an infinity pool, we would sit here with cocktails and watch the sunset.
With us only being there a week, we didn't get a chance to explore all of the restaurants and bars, but the ones we did try were amazing.
So there are lots to eat and drink- the food and cocktails were very good.
There's almost lots to do too, we spent a lot of time on our deck, chilling, swimming in the sea, snorkelling, etc which was lovely.
We also spent a lot of time at the Lagoon infinity pool, and just around the island.
There's water sports, and we hired a glass bottom kayak one afternoon which was really fun, and we were going to do some other water-sports but never got round to it in the end. These are an extra cost, but good to have options if you don't want to just chill for the whole holiday.
But you needn't worry about getting bored, there's so much to do.
One of the highlights from our trip was the sunset cruise we went on, this was free as part of our select all-inclusive plan.
We went on a speedboat, and watched the sunset, whilst on this hour long trip, we saw a manatray and a school of dolphins which I absolutely loved.
Ir was a really special trip, and I wasn't sure what to expect from the boat trip, but it was really lovely and a highlight from the week.
The majority of the week was just spent chilling, we almost couldn't believe how beautiful the island was. Every day, we seemed to appreciate it more.
From the amazing sunrises, to the colourful sunsets, to the clear blue water, it was almost like walking in a postcard.
The Maldives is as beautiful as it looks in picture's, and it honestly felt like we were spending the week in actual paradise.
It was the perfect honeymoon destination – romantic, chilled – the perfect place to spend the week and recharge.
We loved Kuramathi, it was the perfect resort to dip our toe into the Maldives.
The staff were so friendly, helpful and attentive, and couldn't do enough for you. The food and drinks were incredible, our villa was beautiful as were all the restaurants, and bars.
It really was a dreamy place that would be perfect for honeymooners, but also even families too.
I'm so glad we went to the Maldives and I'm so grateful we got to visit one of the most beautiful places in the world, and it really is a must visit destination (it's worth the travel I promise!)
Now we are home, like I said, it seems like a distant memory.
Reading my book overlooking the clear blue sea seems like a dream, but I know it happened, and it will be a week that we will always cherish.
So for now, that's enough waffling from me.
In tomorrow's post, I will be answering some questions about our honeymoon and how we booked it/ as well as some tips if you're going to The Maldives or thinking of visiting.
I'd love to know if you've ever been to the Maldives, what did you think? Or are you eager to hopefully visit one day?