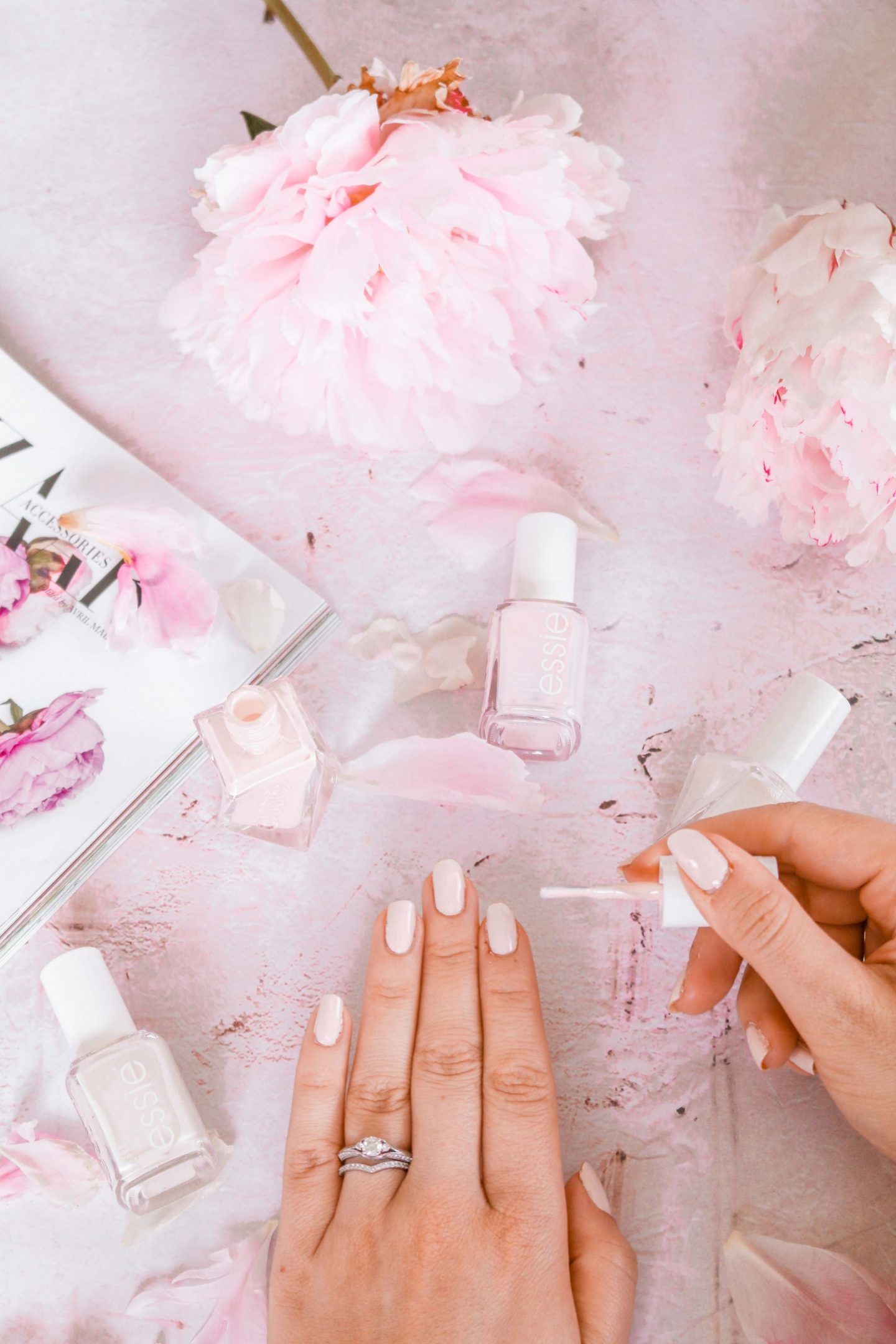 This is the post you've all been waiting for, okay I'm totally joking, as I'm sure none of you are that excited about what I wore on my nails for my wedding. Well, who knows you might be, because trust me, this is the kind of thing I am obsessed with.
You know when Meghan and Harry got married? I was looking at her nails and trying to work out the closest Essie dupe to it, stuff the cute moment when she looked at him when he lifted her veil, I was trying to look at her nails.
So yes, my wedding nails.
You guys know me well enough to know that I'm a bit obsessed when it comes to things like my nails, you may remember that when I got engaged, that on the way back to the hotel I called into a drugstore to buy a new Essie polish, because the blue nail polish I was wearing, wasn't gonna cut it for the engagement announcement post.
Yes really.
So picking my wedding nail colour was a big deal.
I was adamant that I was going to do my nails myself as I do them myself all the time, so didn't really see the point in having some fancy manicure. And I wanted to know exactly what I used, as I thought it was nice to have a wedding nail colour that I could keep and tell my potential future children about- who I'm sure will not care.
So it's no surprise to anyone that I went for an essie shade, you guys know I'm the biggest essie fangirl going, and I do find that their polishes, especially their gel couture range to last the longest on my nails, so I was 100% certain I was going to use one of their shades.
I sat at the table the night before my wedding, and got out about 7 different pale pinks, my sister said it was like the meme where a husband posts a picture of similar pink nail polishes, and his wife asks which one he likes best…
But did I go for Ballet Slippers – the rumoured colour that Meghan wore, Fiji – the opaque baby pink which is a bit of a nightmare to apply, or one of my current faves – Matter of Fiction – a cool toned baby pink that I've barely taken off over the past couple of months?
In the end I went for *drum roll*
Lace Me Up from the essie Gel Couture range.
And that shade is now discontinued but I have found it on Amazon- woo! 
I know, I'm a pain, but I decided that pale pink was the one for me, and I was really happy with how it looked, it was the perfect shade of pink for me, and wasn't one that I'd worn too much recently.
For my toes, I went for Perfect Posture from the same Gel Couture range, a pale blue, as I thought my toes could be my something blue, and I thought the blue would look a nice contrast with my pink Rachel Simpson shoes.
I felt like both my nails and toes looked like they'd been done professionally (if I do say so myself) and the finish did look like I'd had a gel manicure done.
I loved the colour of both the shades and was really happy with my choices.
Hayley, my sister, used Satin Slipper on her nails and we both said how impressed we were at how long our nails lasted. Mine only chipped after about five days, which meant I could get through the wedding without having to worry about chipping my nails.
So there we have it, my wedding nail colours- Lace Me Up & Perfect Posture, to go alongside my engagement colour – Minimalistic.
Other similar pale pinks that are perfect for a wedding or just in general are :
Which nail colour did you wear for your wedding day?