I'm so excited to be writing up our bathroom makeover today, as it's something we have been waiting to do for over four years since we moved into our house.
When we were initially looking at houses, my husband Henry, had to tell me to ignore the kitchen and bathroom in our house and look past them- I'd looked at our house online but discounted it ( I mean those burgundy tiles – come on) anyways, I'd watched enough of Location, Location, Location to realise that sometimes you do have to visit houses in person and well thankfully I did, because as soon as we walked through the front door- we both knew it was the house for us.
My naive brain had thought that we'd be able to renovate the kitchen and bathroom within the first year of living in our house (hahahahaha) but then I soon came to realisation of how expensive it is to do things around the house and after the kitchen/dining room/utility ending up costing more than we thought, the bathroom was put on hold.
Before – those tiles!!
Anyways, that was 2016- fast forward to 2020 and the burgundy tiles were still going strong, however I'd had enough, and decided that with a new baby on the way, it was time to finally do the bathroom.
We explored a lot of options, and in the end, Henry bless him, said he felt confident enough to do the work himself (we had hoped we'd be able to ask friends and family for help but the work started at the same time as Lockdown 2.0 which was also great timing for being 7 months pregnant and 6 days without a shower 😂)
We saved A LOT of money doing things this way, and I know that this method won't be feasible for everyone, but we were very fortunate or should I say, I'm very fortunate to have a husband who is able to do these kind of things as we probably saved around £4000.
A couple of progress pics!
I was in charge of sourcing everything for the bathroom, and I won't lie, when you're on a budget, it is hard work because you have to shop around, I did a lot of shopping during sales, checking several review sites, trying discount codes, and ordered from a number of places. But I'm really happy with what we went for, and although we were on a budget, I don't feel like anything feels or looks cheap.
So where did we even start?
We first of all worked out what we wanted, we decided on a monochrome marble theme (this was my Pinterest inspiration board) with the back wall being black marble, and then gold accessories. Henry wanted to change the layout of the bathroom so we did a lot of measuring and finally decided on the theme.
The toilet, vanity and basin unit were the first things we ordered and these were from Victoria Plum, I really struggled to find a black vanity unit, I found one from another bathroom site but the Trustpilot reviews for the company were atrocious which made me very worried so at the last minute before I ordered, I started looking again. We in the end found the best thing to do, was to order a white unit which would then be painted.
It was a bit of a faff, and will need touching up as we go along but it enabled us to get the look we wanted, at a decent price from a reputable company. We then added gold door knobs which I got from Amazon, we did try looking for a gold flush but that seemed very difficult so we did admit defeat with that one!
But I like how much storage there is, both inside the cupboard and on the top, and the toilet and basin (although quite small) are good quality.
We then got a Brushed brass tap from Victoria Plum also, and a gold waste for the sink from ebay.
The tiles are all from Total Tiles, someone recommended them to me on Instagram and I was shocked at how affordable their prices were. I found that when we were looking for tiles, I was SO fussy, I would do Henry's head in by going 'that marble looks cheap' so he left me to it and I opted for matte white marble tiles and then also black marble tiles. We ordered samples for £1.99 which arrived the next day and we thought the quality was great so put in our order.
The tiles arrived super fast, although the delivery was quite pricey but it is what it is. I'm honestly so impressed with the tiles as I think they look so expensive and good quality but were so well priced and the most affordable tiles I found whilst shopping around. These are the white tiles we went for, and these are the black.
The bath is a J shaped bath which I'd never heard of till Henry said that's what he wanted – this was from Drench and it was a really good price ( I managed to nab it during an early Black friday sale) it also came with the panel (just a tip for when bathroom shopping as I almost got caught out ordering a bath without a bath panel!)
This bath though is humongous, it's so deep, but it's lovely, but I won't lie, getting out of that bath at 9 months pregnant is how I imagine a capsized whale flops about on a beach, but it was a blimming dream to soak in for those last few weeks! As you can imagine, I don't get as much time to use it now but when I do, it's a real treat!!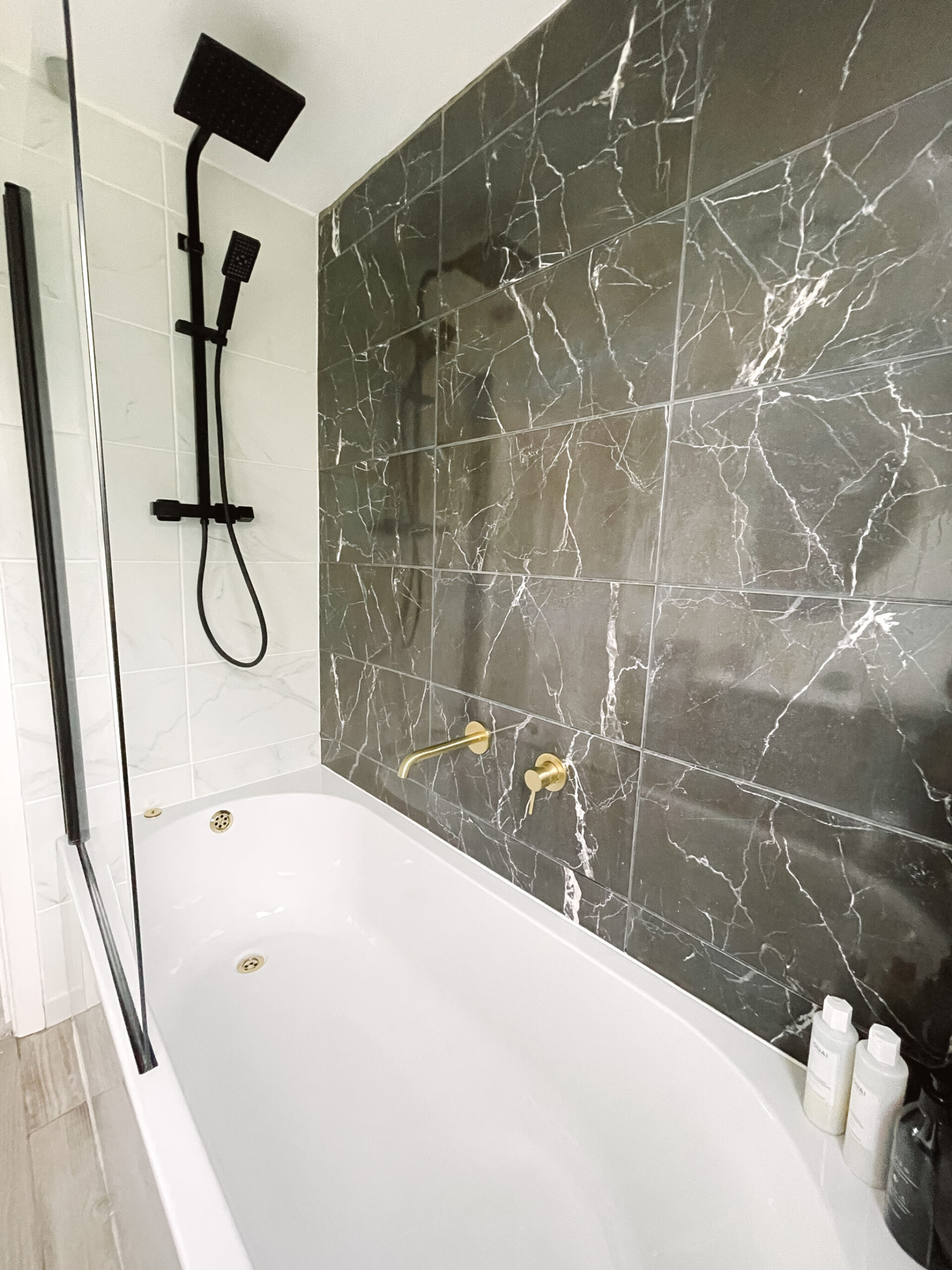 The bath tap is also from Victoria Plum and god don't ask Henry about this tap as he'll tell you it was a NIGHTMARE to fit. It didn't come with a fixing kit although it says it does and it caused much stress for two days. However Henry managed to fix a plan together and install it and I mean it is lush but just a word of warning if you wanted to get the same!
Then we move onto the bath screen and shower, I did want a gold shower but my god are they pricey, so that went out the window. We opted for a black shower instead as these were much more affordable and went for a two head shower, I was like I've always wanted a rainforest shower, but how many times have I used that big shower head? Probably twice 😂🙄I like to stand under it and rinse my problems away ahha but we both prefer the smaller head but I still love it and wouldn't change it.
The bath screen (it was also really hard to source a black bath screen for some reason?!) was from Drench too.
Then the final touches, the mirror is from Rinkit on Ebay, I didn't measure it as I thought it would be fine and then we were like 'Jesus Christ that's a big mirror' 😂 we've gone from having a sh*tty tiny shaving mirror to this big ass thing but I have to say, I love it and think it works as it's quite a plain wall otherwise.
The towel rail/radiator is from Drench, and the flooring is from B&Q – we decided to go for a bit of a contrast with a wood effect, I won't lie though, Henry and I – argued for days over what colour to go for – I wanted a warm beige and Henry wanted grey, Henry won in the end and I have to admit (but don't tell him this) he was right and it does look really good and tie all in well together.
The blind is from Dunelm and we said we might get a glass shelf for all our shower products so they're not just out on the side all the time, but there's no rush for that.
All in all, we are both SO pleased with the bathroom. I can't believe it's the same room, it's my favourite room in the house and has been a total haven to relax in.
I'm so proud of Henry and in awe of the hard work he's done, this is his second bathroom he's ever done and he's worked so hard and done such a good job, I feel very lucky to be married to such a talented guy (who also puts up with my shit when I demand i want something doing in the house 😂)
All in all, we think from looking at our budget and what we spent, it's around the 2k mark, my initial budget was 1.5k but then I realised how much everything cost for a bathroom, but I think this is a great price and has remained affordable for us which was the main thing. We don't feel we over stretched ourselves and I think we did a good job of sourcing things for the best price.
Like I said, this way won't be feasible for everyone, but I also hope this shows that you can do a big job like this on a budget, but you just have to be prepared to shop around, do most of the work yourself and do a lot of research.
Another way to potentially cut the cost is to use an independent bathroom fitter rather than a big brand – or ask around to see if any family/friends could help.
It was so worth the 4+ year wait to do the bathroom, I feel like appreciate it more, and I know the big question on your lips is : do we miss the burgundy tiles?
Not one bit.