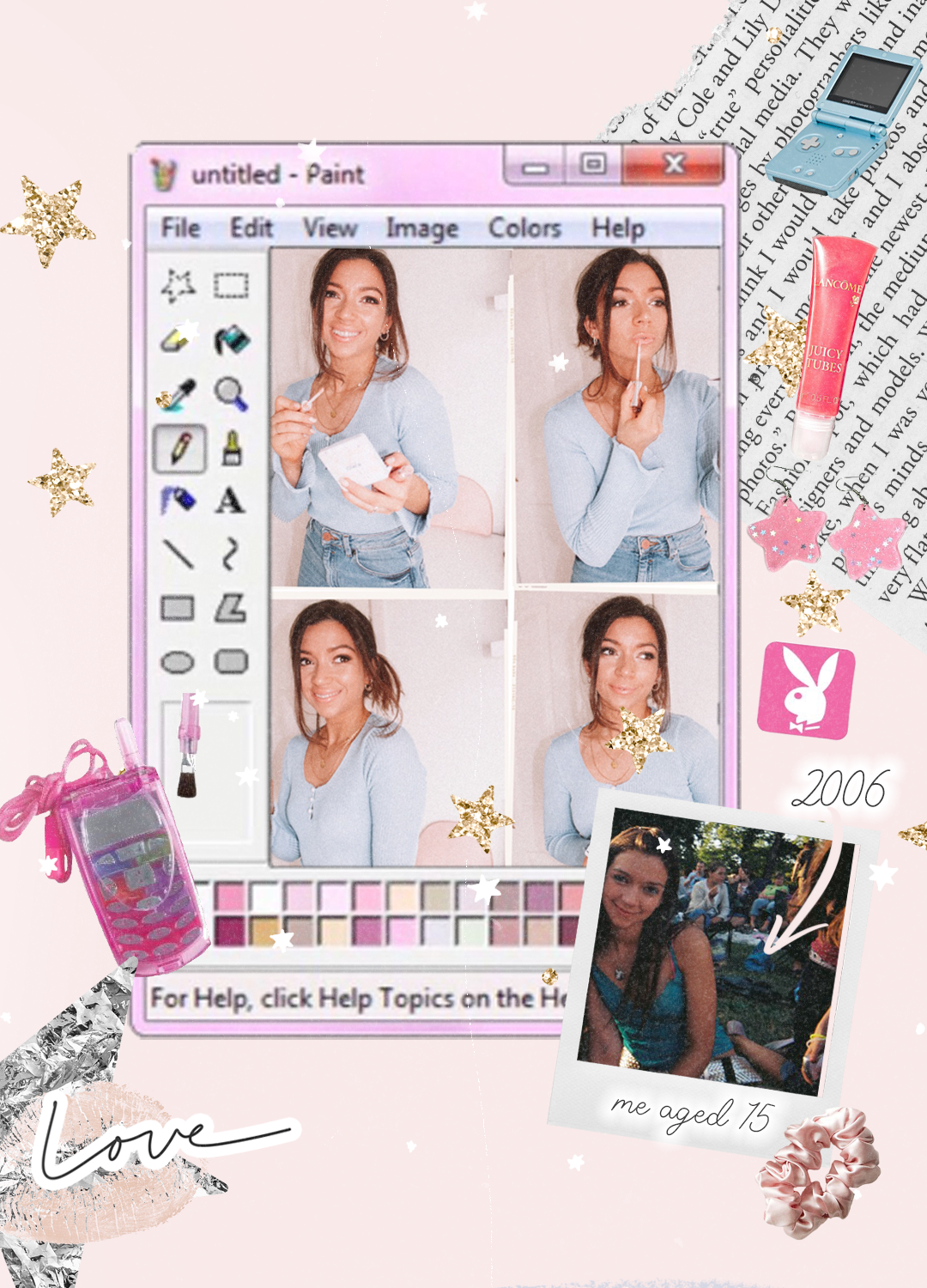 So I  was thinking the other day, about Playboy. No I wasn't thinking about the dirty side of it (get your mind out the gutter) but I was thinking about how weird it was, that in the early noughties, it became this big trend that teenage girls were obsessed with. Myself included. 
I mean as an adult, I just think 'how bloody weird' that 15 year old me wanted all the Playboy merchandise, and would watch that reality show about the Playboy bunnies of the playboy mansion and thought their life looked great *vom* 
But something very disturbing, was that I'm pretty sure that 15 year old me, said that when I was 18, I'd get a playboy bunny tattooed onto my hip. 
And well let's just be thankful that by the time I was 18, playboy was not really a big thing anymore and I had more sense than to tattoo a bunny onto my hip permanently. 
It got me thinking though, about what other fashion and beauty choices that teenage me would have wanted to have worn as an adult in 2020. 
They'd all be pretty tragic but I thought it would be fun to explore this a little more, so today, I thought I'd list 10 things that 15 year old Corrie would want 28 year old Corrie to wear, so let's begin…
So let's start with the playboy bunny tattoo, that would definitely be a thing, and I'm pretty sure I wanted a tattoo on my lower back too, when they were all the craze. 
 I seemed to be obsessed with wanting chunky blonde highlights, why? I'm not sure, but I'm sure that if I'd of had my way, I'd have hair like a zebra right now. 
 I'd only wear purple eyeshadow cause Bliss magazine said that purple eyeshadow was the best colour for brown eyes, so god forbid I wear any other colour eyeshadow.
I'd own no lipsticks, just concealer- I'd be able to cover my dark circles and eradicate my lips – winner winner. But I would have all the Lancome Juicy Tube glosses though.
 I'd either wear very big flared jeans or bootcut trousers (which admittedly I'm loving these days lol) and pair these with either high heeled stiletto's ( I had a pink pair from New look which I loved, and would wear for special occasions. I remember I got them on the same day that I saw 13 going on 30 at the cinema, and I felt so grown up in them) I also had a pair of black pointy heeled ankle boots which I'd always wear with jeans. Why was a 15 year old always wearing heels?
 I'd only wear fragrances by Britney Spears, I have no doubt that my Curious shimmer stick would never leave my side. 
I would have definitely saved up for one of those Chloe bags with the massive padlocks. 
My bras would all be SUPER PADDED because I was obsessed with wanting big boobs. 
My summer wardrobe would consist of off the shoulder tops, ruffle skirts and those massive belts that everyone used to wear. 
I would definitely try and re create anything that Lindsay Lohan or Hilary Duff wore. 
Well, I'm definitely glad that 15 year old me hasn't got control of my make up bag or wardrobe, bless her.
Isn't it funny how much we change and how much trends change over the years. 
I'd love to know what teenage you would dress adult you in, let me know in the comments below!