I can't believe that I am already writing up my next Roaccutane diary, in fact as I write this, I'm already halfway through month three (sorry I've been a bit un organised this month!) It's crazy how fast these months are whizzing by and I'm almost at the halfway point of my treatment! But before we get too ahead of ourselves, let's talk about my second month on the acne treatment and my first month of being on the full dosage.
I had my second appointment at the dermatologists just before Christmas, and the nurse was really pleased with how I was getting on. My blood test results were all good and I remembered to not wear a bell sleeved jumper so taking a pregnancy test was much easier this time.
I was given the all go, to up my dosage to 60mg of roaccutane a day (three tablets to be taken with a meal -preferably dinner) however, I was also told that I could carry on taking 40mg if I preferred, as my dermatologist said she'd rather me get through the course feeling okay, than struggling on a higher dosage. However, since my first month wasn't too horrific, I decided to go for the higher dosage, but I did decide to do this after Christmas.
I was a little worried that I'd suddenly get some severe side effects or get really, really dry skin and I didn't want to have to deal with it on Christmas day.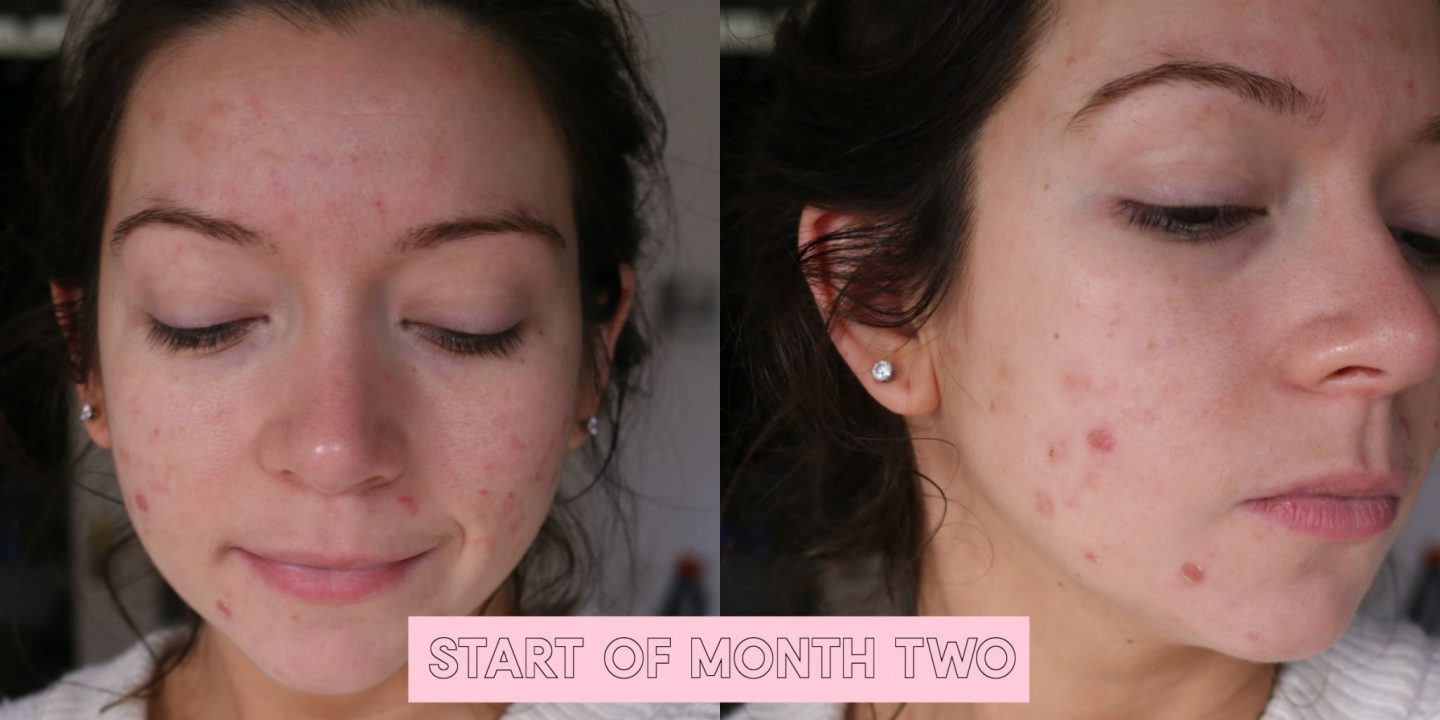 Week 1 :
So with me sticking to my 40mg dosage, the first week of month 2 was pretty much like the past few weeks. I was managing symptoms quite well, and my skin was really starting to clear up during this week. It was really smooth and my spots were starting to fade. I felt so happy and confident about my skin for the first time in forever. I'm going to tell you something very cheesy now, so perhaps grab a sick bucket – just in case.
For the past few Christmases, when someone has asked me what I want, all I could think of was 'clear skin.' Which of course isn't something you can buy, and to me, seemed something that would never happen. So when I woke up on Christmas Day, I looked in the mirror and my skin looked pretty clear. I thought to myself (okay this is the time to grab the sick bucket) 'I've finally got my wish.' (See I told you you'd need one.)
All joking aside though, I was so happy with my skin and felt like I could go without make up. I've never, ever felt confident or nice about my skin and it was such a good feeling. However it soon came crashing down in week 2 (spoiler alert!)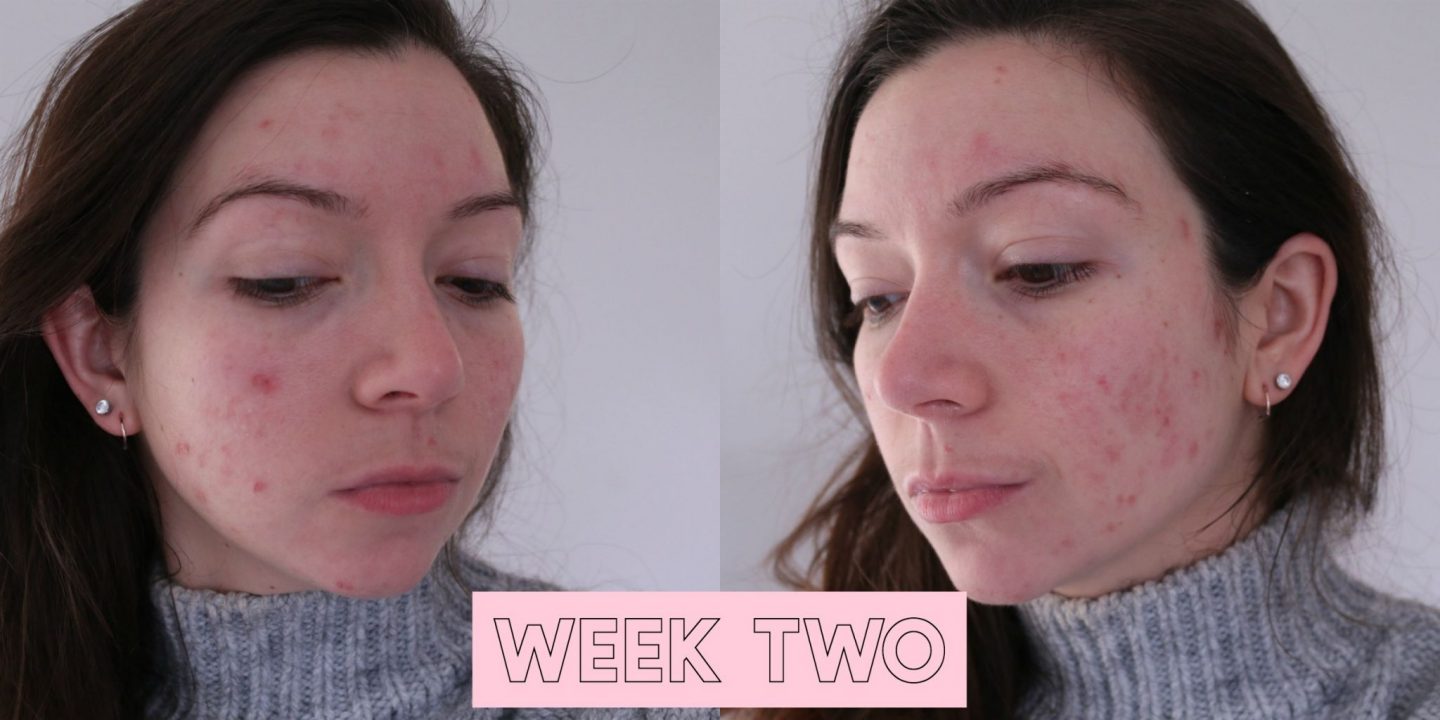 Week 2 :
At the end of week 1, I started to take the 60mg of Roaccutane, I waited till Boxing Day as by then Christmas was pretty much done and I had a few days to chill, so if the side effects were terrible, at least I wasn't doing too much. On Boxing Day morning, I woke up and picked up my phone which had fallen onto the floor in the night, as I went to bend down and pick it up and I realised that I had woken up with a very sore lower back.
I put it down to being hunched over wrapping presents on the floor in the lead up to Christmas, and possibly that I'd slept funny. I hadn't taken the increased dosage yet, so I was really hoping it wasn't a roaccutane side effect.
I remembered some messages that I'd received before starting roaccutane from a couple of people, who told me they got severe lower back pain during their roaccutane treatment. One girl had to stop her treatment it was so bad, and another had never had her back go back to normal. But I was trying to stay positive and hoped it would go away.
During the next few days, I started my increased dosage and the bad back remained. I literally just lay on the sofa with a million cushions and was applying nurofen gel every few hours. I also really felt under the weather, so I went to the doctors where I was told I had a water infection and was given a course of antibiotics. I asked if my lower back pain was related to this (hoping it would be) and the doctor was like 'it's unlikely, but if it is, the antibiotics will make it feel better, if not though, come back.'
It was at the end of week 2 that I also had another huge breakout, it was like another purge, which I wasn't expecting. I guess it makes sense as you've upped the dosage of roaccutane, but after my skin being really clear, it was a bit of a shock. My skin was really red again, and I seemed to have spots coming out of every pore.
To be quite honest with you, I felt like shit. My skin had flared up, my back was causing me a fair bit of a pain, and I was starting to wonder if this was all worth it. I felt like I was putting my body through a lot, and I was reading acne forums online and was worrying myself, when I saw people say that they'd never felt right again since the treatment, and some had even found back pain so bad, that they'd had to stop working out. I was convinced that I'd have to stop going to the gym and was getting really stressed about it
Ignore the vaseline around my nose, I promise it's not snot.
Week 3 :
After a not so great week 2, in week 3 things started to get better. The antibiotics kicked in meaning I was feeling a lot more like myself, I no longer was feeling bleh. My back also started to get a bit better too, and I started to go the gym again after having a break over Christmas.
I took it easy, starting with light weights, and although my lower back was a little sore in my first couple of classes, i found that going to the gym actually really helped my back. Within a few days of being back at the gym, my lower back pain had practically gone, which was a huge relief!
I have no idea what was the cause of my lower back pain, it could have been roaccutane as it does intensify normal aches and pains, I could have slept funny, it could have been the water infection. Who knows.
My skin was starting to stop breaking out, but was still taking an age to heal. So it still felt like I had a lot of spots and my skin was still quite red. Okay this next bit is a bit gross, so I'm sorry if you're eating something right now- but I also found that my skin was almost pushing out my blackheads. My nose felt almost flakey one day, so I went upstairs to go apply some moisturiser. But when I looked in the mirror, it looked like all of my blackheads were poking out and my nose wasn't flakey at all. I know that's gross. But I was like 'what on earth?'
I gave my nose a bit of a gentle scrub with a flannel, and was annoyed that my skin was so sensitive, because I was thinking how cool it would have been, to have used a peel off mask on my nose. Can you imagine how many blackheads I'd have pulled out? But how weird though? It was like my skin had pushed an ejector button and was like 'I've had enough of your shit' to my blackheads. Which fair play, I'd had enough of them too.
I also noticed that my skin was a lot drier this week, it was very tight in the mornings and evenings, and I could almost hear a 'hallelujah' when I applied my serum, oil and moisturiser. I also found that my lips were feeling very dry too, and felt tight after about half an hour of not applying lip balm. I literally have a lip balm with me at all times. But these symptoms were pretty manageable.
I know that I need to get my brows done, I've been a bit nervous about getting them done as I'm scared they'll go red/scab up. Has anyone else on roaccutane had their brows threaded? I hate plucking them and I'm rubbish at it, so don't really know what else to do- any advice would be great as I'm a step away from looking like Charlie from Busted.
Week 4 :
Before I knew it, week four arrived. I had my blood test in this week (which was my last one! YAY!) and I also randomly booked an eye test for this week too.
I know that roaccutane can effect your eyes but I'd been wanting to book an eye test for ages as I hadn't had my eyes checked in well over 8 years. My eyes are all healthy, and the optician just said they were a bit dry. So she told me, to make sure I keep on top of drinking water, and having regular breaks from the laptop screen. Did you know you're supposed to have a break every 20 minutes?
Talking of eyes, I noticed during this month that my eyes were a lot redder than normal, and I did look like I'd been crying a few times, but my eyes are all healthy, I think they're just a bit dry and irritated.
My back started to be a bit iffy again during this week, but it's more my upper back and it just feels a bit stiff. It's like my bones feel dry which is a common symptom of roaccutane. Again, I'm just trying to make sure I'm drinking lots of water, and stretching. I did speak to the nurse about it on my next appointment, but she said this was normal and there's not much else you can do.
I have been taking calcium supplements (which I checked with my doctor if this would be okay and she said yes) as I had been worrying about my bones.
One last thing, I have also noticed that I've felt really tired this month. I have no idea if this all down to Roaccutane, it could be down to it being January, being a vegan for the month and my body adjusting, or could be all three.
My mental health has also been pretty normal, I had really bad PMT during week 4, and I've been feeling a bit bleh but I think that's down to the fact that we get about 2 hours of sunlight a day atm, but now that I've finished my period, I feel a lot brighter and cheerier again, so I don't think Roaccuatne is having any effect on my MH which is good!
At the end of the month, my skin was still continuing to smoothen out, and the spots were healing, albeit slowly!
I'm feeling a bit more positive about my treatment again, and I think I freaked myself out cause I didn't feel very well and blamed it all on Roaccutane, when I don't think it was completely all at fault, it probably just intensified the aches and pains.
I can't believe I am almost on to month four already, I'll try and update you on month three soon. I feel like I've missed something out, but I will stop waffling on now.
As always if you have any questions about roaccutane, feel free to ask away, you can tweet me or Instagram DM me if you want to keep things private, as I'm more than happy to answer any questions you may have!
So for now,  I will leave you to get on with your day. Have a lovely Monday!
Catch up with my other Roaccutane posts :
Why I Went On Roaccutane & The Products Helping Me With Roaccutane Side Effects