Maybe it's been the hot weather that we've been having recently, but I've been struggling to relax.
My sleeping pattern has been all over place, and I was starting to get fed up of waking up bleary eyed and having to have about 4 cups of coffee before feeling like a normal human being.  So this made me want to try and change up our bedroom a little to make it more relaxing.
After doing a few things, and having a little refresh with the decor in the bedroom, I feel like I've succeeded, and it's actually a room where I want to spend time now, rather than just at bedtime.
Also now that Love Island has finished (sob) it means that early nights are back on the table!
So let's get to it – how to make your bedroom more relaxing…
Fresh Bedding
One of the best feelings in the world is getting into bed with fresh sheets, and anyone who disagrees- is lying.
One way to try and make your room feel more cozy and relaxing is to give your bed linen a little upgrade. Either buy a new cosy duvet set, or upgrade your pillows, or even just a new blanket, can make the world of difference.
We usually get new pillows and bedding from Primark, and I've been liking crisp white sheets with pink pillows and cushions. Although they never stay too fresh for long thanks to a certain labradoodle! But I love how the bedroom looks and how cozy the bed feels, I feel like having a nice bed just makes the room look better, and every night I look forward to getting into it!
Though sometimes this doesn't help when getting up in the morning!!
No Technology
Does anyone else always think of the film This Is 40 whenever you say NO Technology?
Anyways, I've been trying to make the bedroom a bit of a no technology zone, and well by this I mean, my laptop and my phone are barred. Okay that's a bit extreme.
I am guilty though of lying in bed looking on Instagram and Twitter and  before I know it, it's 12:30am and I'm looking up weird stuff about the human body, or stalking someone's cousin on Instagram and I'm like what am I doing with my life?
But I'm trying to limit phone time (and Instagram stalking) before bed, and instead, I'm choosing to read a book on my kindle, which I feel helps to clear my mind and make me feel sleepier. I think this also helps with relaxing and well in general, my every day life as my brain is getting some proper time to switch off!
I've also banned myself from checking my emails in bed, as I work from home, it's easy for me to 'be at work' wherever, so I'm trying to make the bedroom a 'no work zone.' As I need to switch off a little more to stop from getting so overwhelmed/burnt out so easily.
Adding Some Prints
We were planning on decorating our whole bedroom as we've never been happy with it and wanted to put our own stamp on it. But ever since the wedding, we've been busy pretty much every weekend, so instead we had a bit of a refresh by adding some prints to the bedroom. I was so excited to add some new prints as our old ones had been up for a good few years, and we felt like they weren't very us anymore.
We decided to go for a beach theme for the prints, as we wanted to add a little colour but also cause the beach/being on holiday is very relaxing and something I liked the idea of looking at every day.
The prints and frames are from Desenio which we have hung on in the wall in a bit of a gallery wall formation, like I said before, we went for a beachy theme, and as well as finding the beach super relaxing, we also wanted to recreate similar vibes from when we stayed at a hotel called Sapphire Falls at Universal Orlando Resort last year, where the rooms were themed around beaches and the Caribbean.
The rooms were so relaxing, and we really enjoyed our stay and wanted to re create this ourselves. Maybe it's a good excuse to go back to get more decor inspo 😉
Posters L-R
VINTAGE SURF CAR POSTER
DREAMY PASTEL BEACH NO1 POSTER
WATER SLIDES POSTER
SURFERS VAN POSTER
BEACH UMBRELLA POSTER
The posters have added a bit of much needed colour to the room, and have got a bit of pink, and pastel-ness which I adore! We've got gold frames for the prints, which I think really finishes of the wall and I'm so happy with how it all looks.
Posters L-R
TROPICAL NIGHT NO2 POSTER
DREAMS POSTER
I also got a couple of prints for above the bed, I got a tropical night sky cause I'm obsessed with stars, and I loved the Sweet Dreams print for above the bed. I think these have really added to the room, and made it feel so much more homely.
The colours have worked so well together too, and the room just feels so much more like us and cosy, which has obviously helped massively with making it a really relaxing space.
If you want to add some new prints to your bedroom (or any room) you can get 25% off with the code "dizzybrunette3" gives 25% off posters* on Desenio between August 7th and 9th
*Except for frames and handpicked-/collaboration posters.

Lighting
Lighting is a key part of making a room relaxing right? I will never understand how people can sit in the evening or get into bed with the big light on, ah it gives me a headache just thinking about it.
Anyways, for the bedroom, I love having my lamp and fairy lights on, sometimes even just my fairy lights for a chill evening watching Netflix on TV, as I feel like this makes a massive difference to the room and how cosy it is!
In fact the more fairy lights the better, so would definitely recommend getting some to cosy up your bedroom!
Say Bye To Clutter
You know that saying 'Tidy room, tidy mind?' Well I totally think there should be a saying like 'Tidy Room, Tidy sleep'
Okay maybe that doesn't work but you get my drift.
I always find that when the bedroom is a mess that I don't relax as easy/sleep as well. Yes I know I totally sound like Monica Gellar right now, but hopefully someone else understands.
Recently, I've been making a big effort to tidy away mess, putting clothes away, and making sure the bedroom is pretty clutter free. I find that when It's nice and tidy, I want to spend time in it and find myself winding down easier.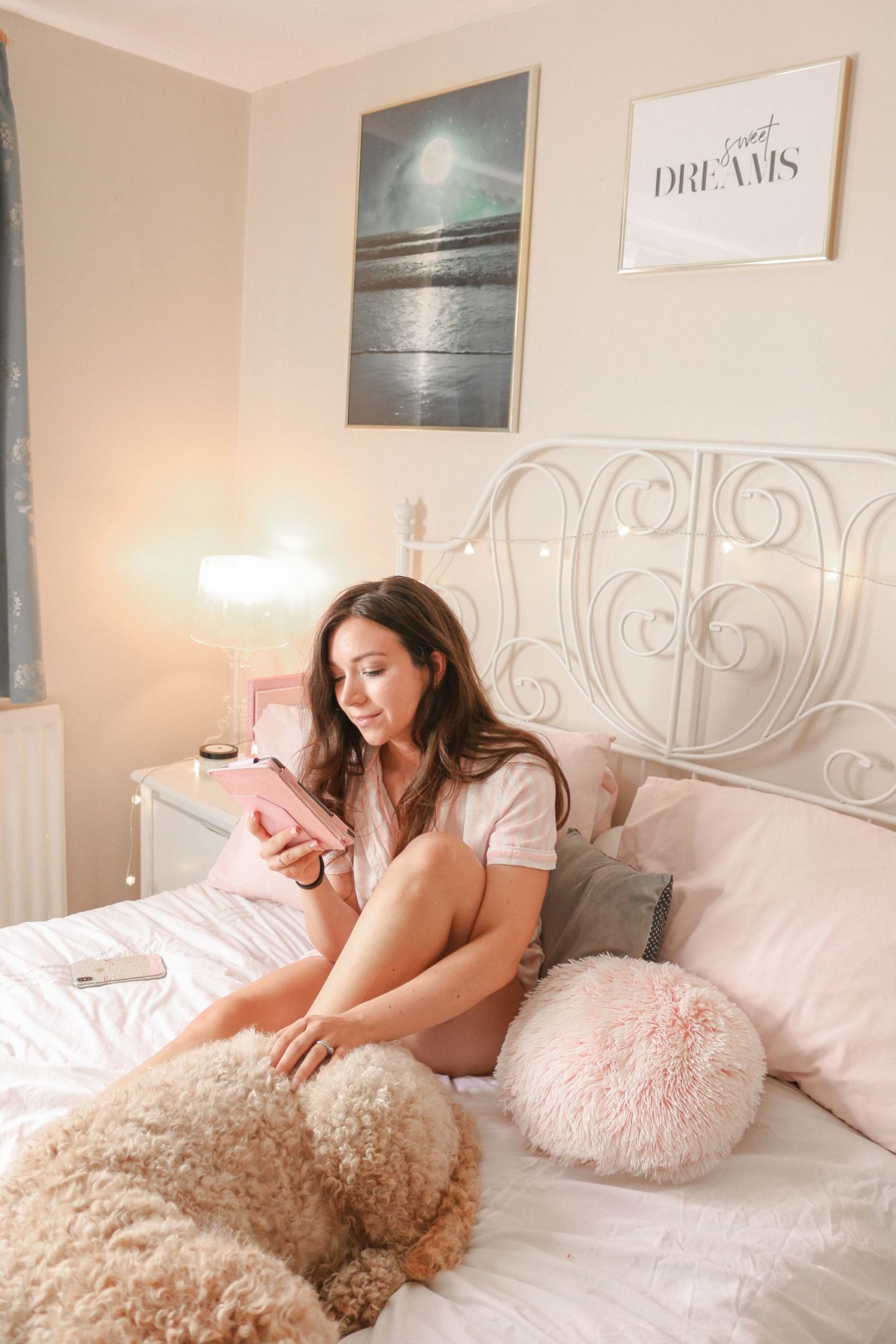 So these are five things that have been helping to make our bedroom feel a bit more cosy and relaxing, I love how the bedroom feels a bit more like us now thanks to the prints and having a refresh with the bedding and bedside tables. It feels like a lovely room, to spend time in, and I have been sleeping better… hoorah!!
Do you have any tips for making your bedroom more cosy and relaxing?
This post was sponsored by Desenio, but as always my options are 100% honest and genuine, to see more on how I work with brands on sponsored posts, read my disclaimer here.